In a study of 2.8 million listings, Zillow Digs uncovers that it's not always the fanciest offerings that sell.
It used to be a real estate listing with "Jacuzzi tub" or "crystal chandelier" would draw a lot of eyeballs, leading to higher prices and a speedy sale. These days, a barn door might be the golden (or wooden) ticket.
According to a report released on Tuesday by Zillow Digs—the real estate site's design and home improvement cousin—a sliding door might help a home fly off the market 57 days faster and fetch a13.4 percent higher price than homes without it.
Scouring listing descriptions from 2.8 million condos and single-family homes sold across the country between January 2014 and March 2016, the study's authors marked keywords from "craftsman" to "solar panel." They controlled for the size, age, and location of homes, comparing, for example, listings of similarly aged and sized houses within the same county that included the keywords ("granite," "crown molding") with those that didn't.
Then they created a statistical model to try to predict what a home with a pendant light or an outdoor kitchen might sell for, and how quickly, compared to homes without those attributes. The homes ranged in price from $20,000 (in many locations) to $88.3 million (in L.A.), and the median value was $232,000.
A "craftsman meets farmhouse" aesthetic is popular now with buyers, according to the study.
Design Signals
"I can get an idea of how Americans are valuing these different home features," says Skylar Olsen, Zillow's senior economist.
Olsen knows that having "barn door" in the listing alone doesn't directly correlate to a higher price or a quicker sale. You can't just slap a barn door on, or in, any old home and automatically, and dramatically, increase its value. "'Causal relationship' are strong words," she says.
Instead, "Barn doors are a signal of a strong design sense. People that design homes or fix them up with barn doors might have their eyes toward other key design elements that people value, like a farmhouse sink or an open kitchen."
Also, "barn door" might not be what you think. "These days they have a very refined look, more polished and modern and sleek," says Kerrie Kelly, Zillow Digs' home design expert. You can forget the reclaimed barn wood, she says. "It's more a high paint gloss or glass with stainless steel."
Olsen adds, "They're actually very expensive." A farmhouse-meets-industrial "modern slab" barn door will run you almost $1,600. A black leather option with "barbed wire scar" trim is $3,500.
Pendant lights and exposed brick were two features that ranked high in Zillow Digs' study.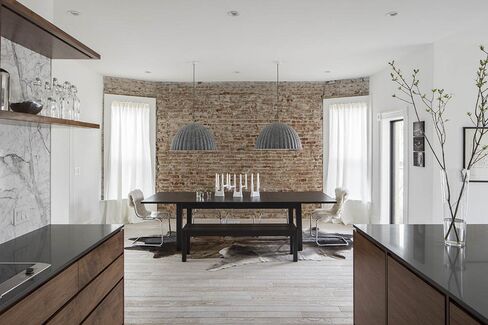 The first four items on the list—barn doors, Shaker cabinets, farmhouse sinks, and subway tile—are all descendants of a simple, even rustic, aesthetic that's been reinvented as au courant design. It's a look Zillow Digs refers to as "craftsman meets farmhouse."
Listings with the words "subway tile" sold on average 63 days faster, and for 6.9 percent more, than those without it. The versatile tile can fit any house style, size, or budget. You can get glossy white tile for $2 a square foot, or, says Kelly, "You can get subway tile in Calacatta marble with a beveled edge." The latter can run you $40 a square foot easily.
Farmhouse sinks—deep sinks that jut out from the surrounding cabinets—may be undermounted and made of stainless steel these days. As Olsen says, "You can still pay a pretty penny for a farmhouse sink." (Here's a $2,500 copper one.)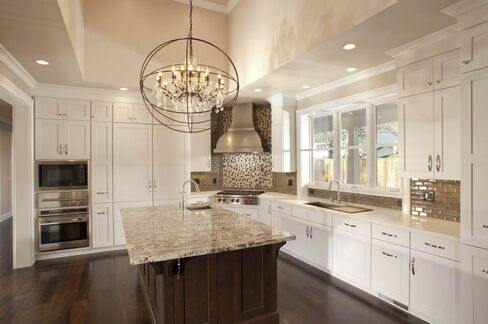 Other features may be more of a surprise.
Is a tankless water heater—which heats water on demand—really such a draw? Could be. Homes that included those words in the listing sold for 4 percent higher and 43 days faster than those without.
Still a draw, but way further down the list, are features previously thought to fetch a premium or make a home sell more quickly. Homes with the keyword "Midcentury" in the listing sold for 2.7 percent more and 40 days faster than those without; exposed beams took in 2.3 percent higher prices and sold 19 days faster; the words "contemporary," "chandelier," and "solar panels" all saw prices 1.8 percent higher.
"Jacuzzi" fetched a wee 0.9 percent higher price and sold 6 days faster. Listings with the words "breakfast nook," just slipping in there with a 0.2 percent higher price, sold 21 days faster.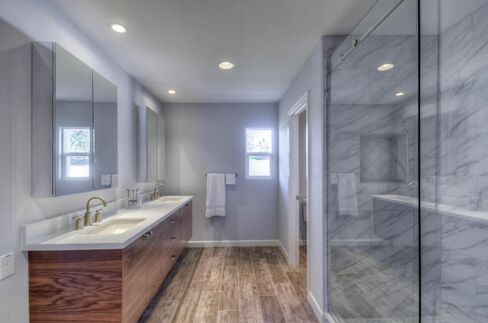 The preference for the pendant light (4.6 percent higher, 48 days faster) vs. the chandelier, or the frameless shower (4.6 percent higher, 38 days faster) vs. the Jacuzzi tub is pretty simple, according to Gary Gold, executive vice president of Hilton & Hyland in Beverly Hills. " 'Jacuzzi tub' sounds like it was installed 25 years ago," he says. " 'Frameless shower' sounds like it was installed yesterday. 'Chandelier' sounds 30 years old. 'Pendant light' sounds modern."
Or, as Olsen says, "We have an evolving taste of what signals luxury."
Still, the low rankings of what we'd thought were givens come as a surprise. An open kitchen is ranked 32 out of 50 features; fireplace is 29 and walk-in closet is 23. "Outdoor kitchen" proved more likely to entice buyers; it's number 15. Number 50: the lonely breakfast nook.
"Premium buyers today are wanting a feeling of authenticity, whether it's in their renovation of a historic home or in their brand-new high-end condo in the city. They want 'brand-new old,' " says Noble Black of Douglas Elliman Real Estate, who considers the findings reflect his experience in the market. "And anything that allows for easy entertaining such as outdoor kitchens is huge."
Gold cautions that neighborhood context is key. "A home in the Hollywood Hills or Brentwood or the Palisades would have different hot buttons," he says. "When you start talking about frameless showers and backsplashes and tankless water heaters on $15 million houses, it sounds like you don't have much to talk about."
Also, he adds, most buyers aren't really reading the copy. "It's like a police scanner: They're looking at images and they're looking for certain words." For his clientele, those words are more like "panoramic view," "gated," and "screening room."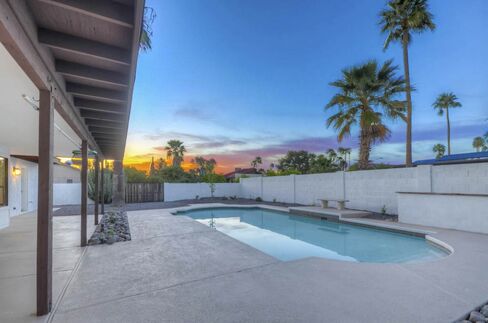 The pool may be prettier than this Phoenix home's barn doors, but the latter design feature is in higher demand.
The Zillow Digs study did account for regional taste. In addition to revealing which features might make a home sell faster, and for more money, the authors note the cities that are rocking these features.
Where are you most likely to find a quick-selling, high-priced home with "barn door" in the listing? Not a place known for its rustic, farmhouse sensibility: Phoenix. Pendant lights are big there, too.
Los Angeles had the largest share of recently sold homes with "shaker cabinets" (9.6 percent higher, 45 days faster), "farmhouse sink" (7.9 percent higher, 58 days faster), and "quartz" (6.0 percent higher, 50 days faster) in the listings. The largest share of listings with "subway tile" and "backsplash" was in Philadelphia. Seattle had the highest share of listings with the words "craftsman" and "heated floors."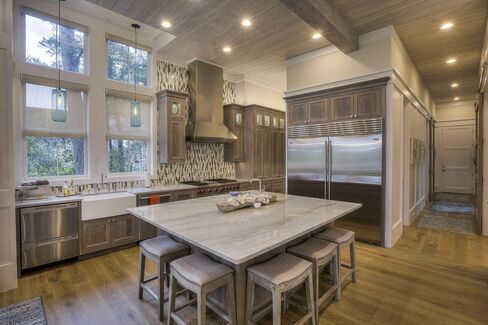 Arizonan barn doors aside, some of these features do have regional roots. While there are plenty of colder climates than Seattle, it is an eco-friendly city with soupy winter rains, so radiant heat flooring makes sense. And Craftsman homes are far more common in the West than in the East. (Why Philly is so keen on subway tile, though, is still a mystery.)
Not a big surprise: New York had the most recently sold homes with the words "exposed brick" in the listing (4.9 percent higher, 36 days faster).
Overall, Olsen says it's worth considering how popular some of these more modern farmhouse features are. Going crazy with granite and quartz isn't a surefire way to get a premium. But if you're comparing subway tile to stone, Olsen says, and the listings with stone tend to sell for 7 percent less, "I'd say go with the subway."
Reprinted with permission.